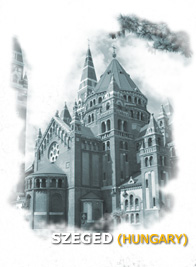 SZEGED (Hungary)

Some 14 kilometers from the Yugoslav border lies Szeged, an important town of Hungary with around 175,000 inhabitants, which is situated just below the junction of the Tisza and Maros rivers.
It is associated with two products which are so indisputably Hungarian that they must surely have come from somewhere else; and that is indeed the case with both paprika (coming originally from India) and salami (from Italian origin), which are relatively late arrivals on the Hungarian scene (16th and 19th century).
The town itself has great charm, with a large central square planted with plane trees, limes, rhododendrons and Japanese cherry, and flower beds which are bright with tulips in the spring. The pleasant surrounding streets are lined with Classical, Baroque and Jugendstil houses, and there is a riverside promenade where the burghers of Szeged take a walk on Sunday afternoons. There is also a thermal spa and a large botanical garden to be found there. Such important personalities were Students or Professors of its University, like Albert Szent-Györgyi, who discovered Vitamin C. In August the town houses the international-known Open-Air Theatre Festival. The town Szeged seems to have the ability to preserve pools of tranquility despite its industry and the through traffic heading to the Yugoslav border.