About Pécs
Pécs is one of the most important intellectual, spiritual, cultural and economic centres of Southern Transdanubia. Combined with its priceless heritage sites, its lively cultural scene, theatres and museums make the town a popular tourist centre.
First named Sopianae, the settlement came under the authority of the Roman Empire in 10 BC. The early Christian period of Sopianae is preserved by the Early Christian Necropolis uncovered in the area in front of the current Cathedral around the former Mons Sacrum (Sacred Hill). This unique heritage complex was entered onto the World Heritage Sites.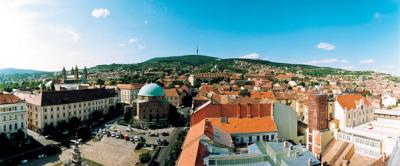 The first Hungarian king, St Stephen, established the bishopric and the cathedral of Pécs in 1009. The first Hungarian university was founded here by the Anjou King Louis I the Great in 1367. The period between 1459 and 1472 was the era of Bishop Janus Pannonius and the flowering of Renaissance culture in Pécs. This spirit can still be traced in the features in the town centre, a district that is made even more special by the numerous characteristic buildings surviving from the Turkish times.
The Royal Academy was moved to Pécs from Győr 1785, which further served the development of the town's intellectual scene.
Nowadays there are abundant venues for cultural events: a Croatian and a German theatre besides the Hungarian, a puppet theatre and several open-air stages.
The most famous of the major factories in Pécs is the Zsolnay Porcelain Manufacture. The world-famous products made in this works over the past century can be seen not only in the local Zsolnay Museum, but are also decorating numerous public spaces.
A plenitude of museums safeguards the town's historic remains in addition to the heritage buildings. Several contemporary fine arts collections enrich the list of things to see and do in the town, among which are galleries dedicated to world famous artists of Hungarian origin like Victor Vasarely or Amerigo Tot.
Hotel Pátria *** - Pécs
The hotel is located in the town centre. The historical monuments, museums and galleries are nearby. Most of the rooms have balcony decorated with Zsolnay ceramics. The balconies provide a panoramic view of Pécs.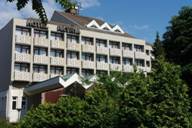 Hotel address:
Hotel Pátria
Rákóczi út 3.
7621 Pécs
Hungary
Phone: +36 72 889-500
Fax: +36 72 889-506